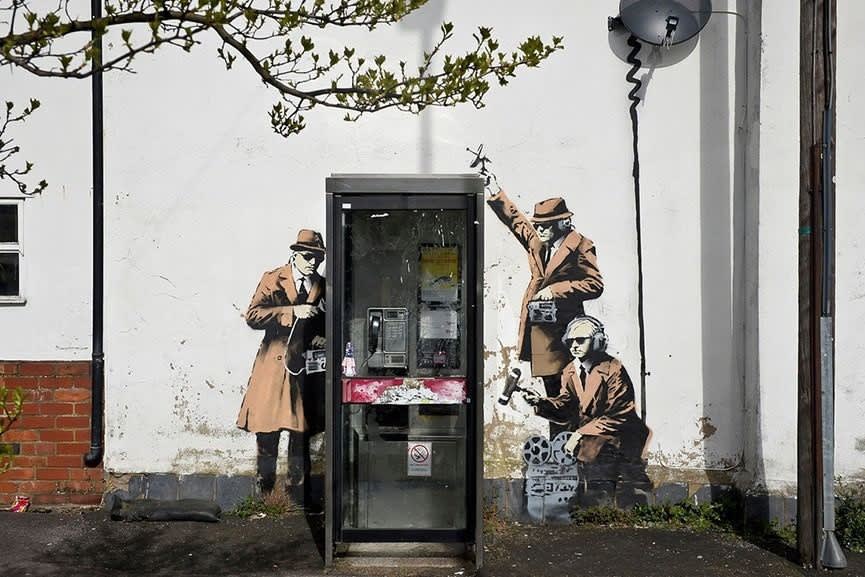 Soon after it was painted on the wall of a house in Fairview Road, Cheltenham, England, Banksy's masterpiece Spy Booth drew the attention of local residents and art experts alike. Almost immediately, Robin Barton, an expert in the work of the famous British artist estimated the value of the art piece at one million pounds. Unfortunately, it also drew the attention of vandals and the intricate artwork has been attacked several times. Due to the repeated attacks and a poor state of the wall where it was painted, instead of seeing a rise of the monetary worth of the celebrated mural, the value of the piece has plummeted – to nothing. Art dealer specialized in the anonymous artist's works that once appraised it at one million pounds now claims that the artwork is worthless due to its "dilapidated state".
Since it was created in 2014, Spy Booth, art piece by the prominent artist has caused a lot of controversies. First, in April 2014, the art piece was vandalized for the first time when vandals used white paint to cover the faces of the spies on the mural. Luckily, white paint was quickly removed and the artwork recovered. Then, the UK property legislation and the determination of the local residents saved the artwork from being sold to a London art gallery in July 2014. Several months later, vandals attacked the spies again when the entire mural was tagged with red and silver paint.
The artwork that depicts three spies listening on the conversation inside of a phone booth appeared soon after the Edward Snowden scandal who blew the whistle on the GCHQ, the National Security agency and the numerous global surveillance programs. Created in humorous and thought-provoking manner, the artwork by Banksy was immediately marked as a masterpiece and was praised by the community as a unique gift and a local attraction. Maybe that's why both the owner and the local community aren't ready to give up on the artwork just yet. Despite the unfavorable appraisal, the owner of the house in Fairview Road, David Possee plans to renovate the property and restore the piece. And he has two options. "The first is to renovate the property myself and the second is to offer it to local businessman Hekmat Kaveh, who has made me an offer to purchase the property and restore the Banksy for the benefit of Cheltenham," David Possee stated for Bristol Post. Who knows if he succeeds in his intention, maybe Spy Booth will recover its million pound value once again.
(From widewalls.ch)